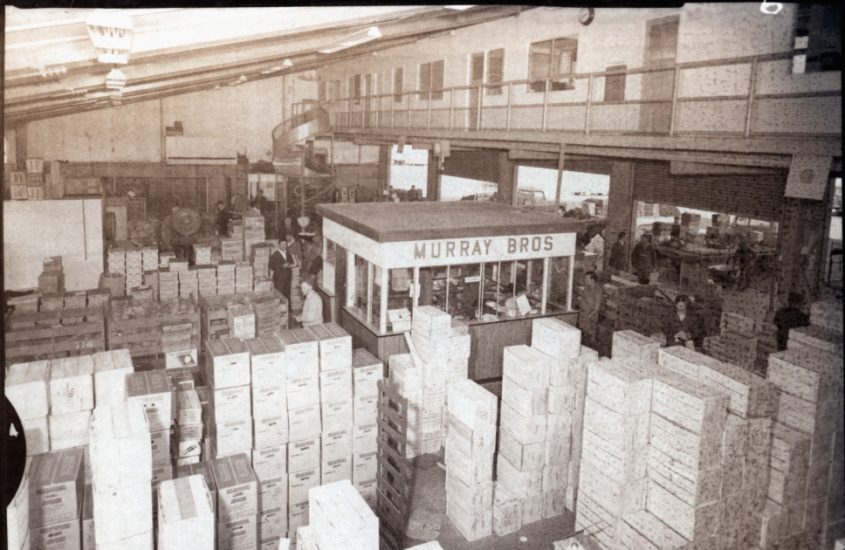 Murray Bros celebrates 100 years of trade!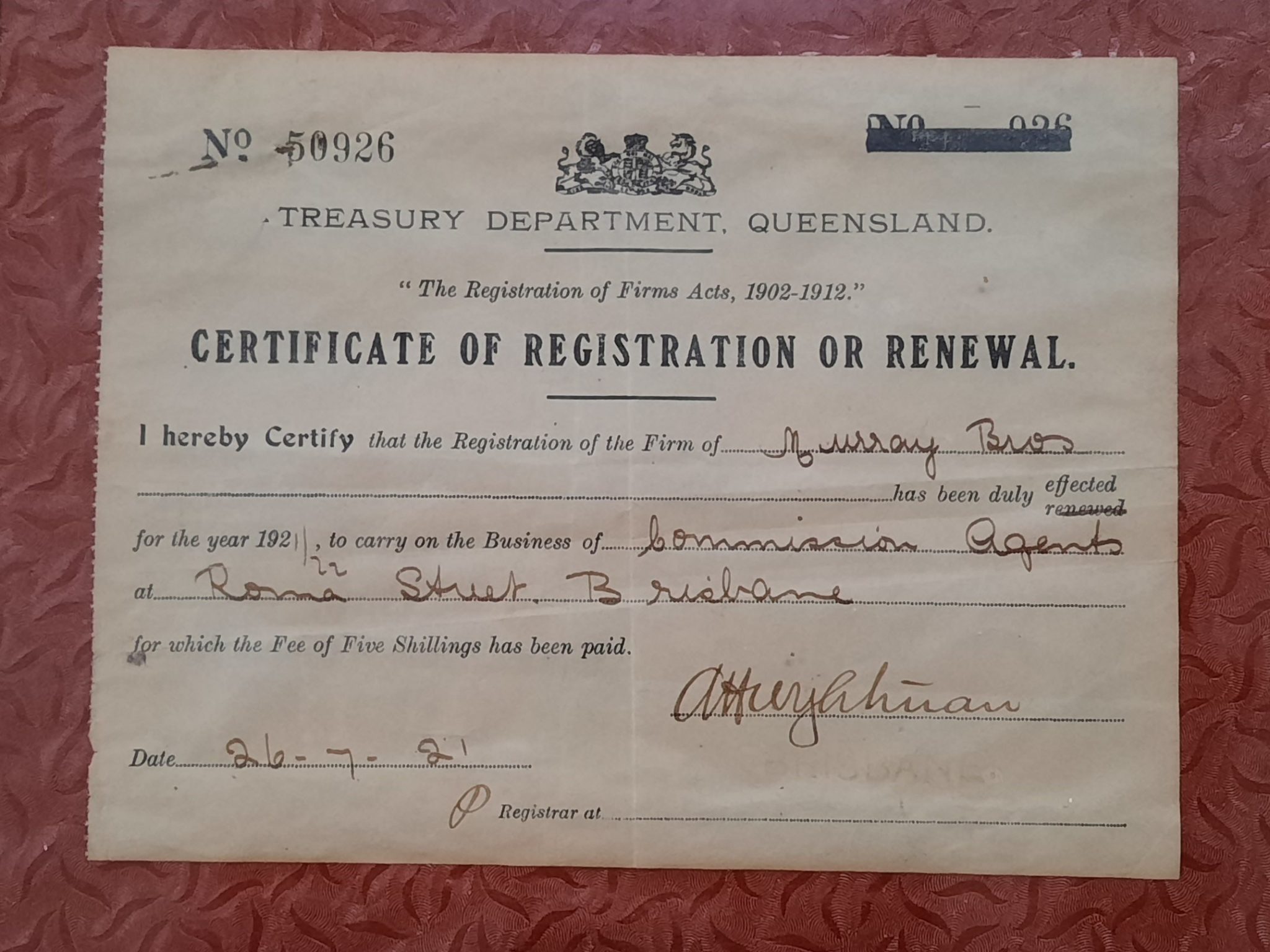 Since 1921, Murray Bros has been officially trading within the Brisbane Markets. After returning from fighting in Europe in WW1, brothers, Reg and Arthur Murray, registered the business on 26th July 1921, and commenced trading in Roma Street, Brisbane, where the Brisbane Markets were situated at the time.
The Brisbane Courier, 1932, quoted "From a modest beginning, 10 years of steady growth has placed the business in the enviable position it occupies in the trade today."
Murray Bros continued trading at the Roma Street market from 1921 to 1964 under the leadership of Reg Murray, dealing with many challenges, including the Great Depression (1929-1933) and World War II (1939-1945).
In 1964 the Brisbane Product Markets (and Murray Bros with it), relocated to its current site at Rocklea. Murray Bros commenced trading from B Block, where our fresh produce trading floor remains, over 50 years later.
Image courtesy of The Arch Martin Brisbane Markets History Room 
In the 1960's and 1970's, Reg Murray introduced a number of business partners to continue to sustain and grow the business. Those partners included Don Shelton, Harold Wakely, Roy Hollett Snr and Barry Smith.
In 1974, Murray Bros suffered its first flood disaster, with the business being devastated after being fully immersed under flood waters. Murray Bros quickly bounced back to trade strongly through the remaining 1970's and 1980's.
1984 saw Reg Murray Snr awarded the nation's top fruit and vegetable wholesaling honour, the Australian Chamber of Fruit and Vegetable Industries Meritorious Award.
In the mid 1980's, with Roy Hollett Snr now at the helm, Murray Bros was sold to the Golden Mile group of companies.
In 1990, Murray Bros was sold to Atkinson Produce (a company owned at the time by Robbie Clarke and Ross Sutherland). Atkinson Produce has remained the owner since that time. Robbie Clarke was Managing Director from 1990 to 1999, when he left the business.
In 1999, Gary Poole took over as Managing Director of Murray Bros, leading the company on a 10 year run of solid trading growth.
In 2009, Gary Poole retired and Stephen Edwards took over as Managing Director. Stephen remains as Managing Director today. He has continued the growth momentum of Gary Poole by growing a number of the logistical arms of the business, including pre-packing, import/export logistics, fumigation and third party logistics.
2011 saw the Brisbane Markets site, along with 70 surrounding suburbs, again inundated by flood waters from the Brisbane River and Oxley Creek, from Tuesday 11th January up until Friday 14th January. During this time, the Market was inaccessible, with waters rising to 3m across the whole Rocklea site.
Image courtesy of Brisbane Markets Limited
In 2017, Murray Bros signed a 10-year lease with Brisbane Markets Limited to take over Building A1, the eye-catching warehouse on the corner of Sherwood Road and Martin Taylor Drive, Rocklea. "The site is compatible with the growth of our pre-packing business, third party logistics, ripening and imports program so its availability was perfect timing for us," General Manager, Susan Lewis said at the time.
Since then, construction of additional cold rooms, ripening and fast cool rooms, and fumigating rooms has seen the functionality of the 5,000 sqm multi-purpose facility expand even further. Murray Bros continues to trade an expansive list of fresh produce from our B Block trading floor, and also runs large storage sheds in R and M Blocks.
 Murray Bros Management and staff would like to take this opportunity to thank our growers and customers, past and present, for the support and cooperation which has enabled our company to reach this privileged and exciting milestone of 100 years in business!!
https://murraybros.com.au/wp-content/uploads/Old-Market.jpg
768
968
Jodie Ahchay
https://murraybros.com.au/wp-content/uploads/murraybros-logo-header.jpg
Jodie Ahchay
2021-07-26 13:11:11
2021-07-27 13:37:45
Murray Bros celebrates 100 years of trade!
Address
B Block, Brisbane Markets
385 Sherwood Road
ROCKLEA Q 4106
View on map
Murray Bros offers fruit and vegetable trading, logistics, cold storage, ripening, pre-packing, import/export clearance and fumigation, quality control etc.
Quarter Century and "Not Out" for Bob Jones

Scroll to top