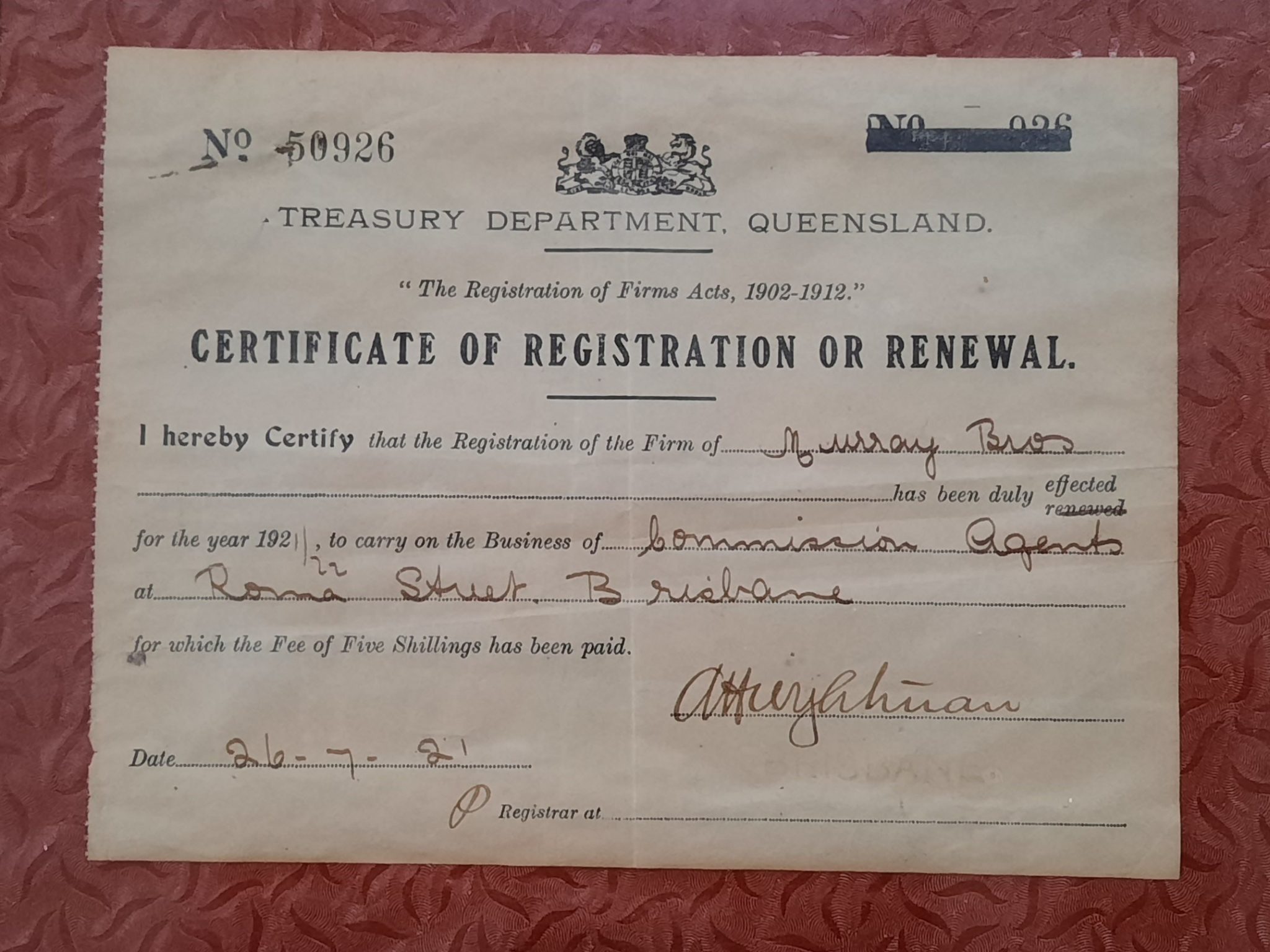 Since 1921, Murray Bros has been officially trading within the Brisbane Markets. After returning from fighting in Europe in WW1, brothers, Reg and Arthur Murray, registered the business on 26th July 1921, and commenced trading in Roma Street, Brisbane, where the Brisbane Markets were situated at the time.
The Brisbane Courier, 1932, quoted "From a modest beginning, 10 years of steady growth has placed the business in the enviable position it occupies in the trade today."
Murray Bros continued trading at the Roma Street market from 1921 to 1964 under the leadership of Reg Murray, dealing with many challenges, including the Great Depression (1929-1933) and World War II (1939-1945).
In 1964 the Brisbane Product Markets (and Murray Bros with it), relocated to its current site at Rocklea. Murray Bros commenced trading from B Block, where our fresh produce trading floor remains, over 50 years later.
Image courtesy of The Arch Martin Brisbane Markets History Room 
In the 1960's and 1970's, Reg Murray introduced a number of business partners to continue to sustain and grow the business. Those partners included Don Shelton, Harold Wakely, Roy Hollett Snr and Barry Smith.
In 1974, Murray Bros suffered its first flood disaster, with the business being devastated after being fully immersed under flood waters. Murray Bros quickly bounced back to trade strongly through the remaining 1970's and 1980's.
1984 saw Reg Murray Snr awarded the nation's top fruit and vegetable wholesaling honour, the Australian Chamber of Fruit and Vegetable Industries Meritorious Award.
In the mid 1980's, with Roy Hollett Snr now at the helm, Murray Bros was sold to the Golden Mile group of companies.
In 1990, Murray Bros was sold to Atkinson Produce (a company owned at the time by Robbie Clarke and Ross Sutherland). Atkinson Produce has remained the owner since that time. Robbie Clarke was Managing Director from 1990 to 1999, when he left the business.
In 1999, Gary Poole took over as Managing Director of Murray Bros, leading the company on a 10 year run of solid trading growth.
In 2009, Gary Poole retired and Stephen Edwards took over as Managing Director. Stephen remains as Managing Director today. He has continued the growth momentum of Gary Poole by growing a number of the logistical arms of the business, including pre-packing, import/export logistics, fumigation and third party logistics.
2011 saw the Brisbane Markets site, along with 70 surrounding suburbs, again inundated by flood waters from the Brisbane River and Oxley Creek, from Tuesday 11th January up until Friday 14th January. During this time, the Market was inaccessible, with waters rising to 3m across the whole Rocklea site.
Image courtesy of Brisbane Markets Limited
In 2017, Murray Bros signed a 10-year lease with Brisbane Markets Limited to take over Building A1, the eye-catching warehouse on the corner of Sherwood Road and Martin Taylor Drive, Rocklea. "The site is compatible with the growth of our pre-packing business, third party logistics, ripening and imports program so its availability was perfect timing for us," General Manager, Susan Lewis said at the time.
Since then, construction of additional cold rooms, ripening and fast cool rooms, and fumigating rooms has seen the functionality of the 5,000 sqm multi-purpose facility expand even further. Murray Bros continues to trade an expansive list of fresh produce from our B Block trading floor, and also runs large storage sheds in R and M Blocks.
 Murray Bros Management and staff would like to take this opportunity to thank our growers and customers, past and present, for the support and cooperation which has enabled our company to reach this privileged and exciting milestone of 100 years in business!!
https://murraybros.com.au/wp-content/uploads/Old-Market.jpg
768
968
Jodie Ahchay
https://murraybros.com.au/wp-content/uploads/murraybros-logo-header.jpg
Jodie Ahchay
2021-07-26 13:11:11
2021-07-27 13:37:45
Murray Bros celebrates 100 years of trade!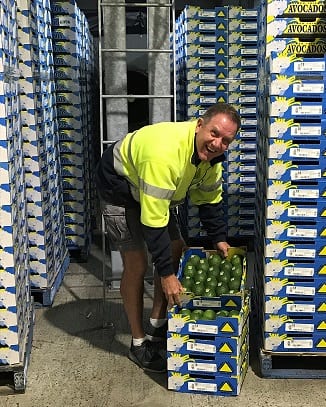 In June, Murray Bros celebrated a momentous occasion with Bob Jones, as he hit 25 years with the company! It truly is a wonderful milestone, and Murray Bros congratulated Bob and showed recognition and appreciation for the pride he displays in fulfilling his role every day.
Bob commenced at Murray Bros on the trading floor in June 1994, labouring in the apple, citrus and avocado departments. He was promoted to other positions such as shed manager, avocado salesman and is now an integral part of the avocado ripening team in our A1 warehouse. Bob has enjoyed the variety these different roles offered him at different times in his career. He prides himself on performing to the best of his ability in any role, and even though he is comfortable in his current role, it still presents regular challenges that he embraces.
During his 25 years, Bob has obviously witnessed significant change at Murray Bros and within the market precinct. Technology is one of the principal symptoms of, and cause for change. The method of communicating orders has changed from old fashioned faxes and landline phone calls, to mobile phones, texts, emails, and online ordering systems. The market site at Rocklea has expanded and been upgraded tremendously over the years. Bob now reflects on "how many more fruit shops there used to be in our community, and therefore how many more buyers there used to be within the markets. Now, the supermarket chains dominate the market for fruit and veg and so the number of buyers coming into to the markets has noticeably decreased." He laments that what were always 'early starts' have now become 'earlier!'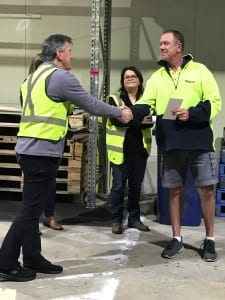 Bob would encourage any new staff commencing within the market environment to embrace the learning opportunities on offer by starting at the bottom and working their way up, just has he has. He has gained valuable insight and knowledge of all types of produce including where it originates and where it ends its journey in the logistics chain. This insight highlighted to Bob how hard it is for our country's primary producers. "They can be affected in an instant by an extreme weather event and work incredibly hard to produce a high quality product, get it into the markets and earn a good return" he said.
Outside of work, Bob lives and breathes golf. He lives on a golf course so never has far to travel for practice or competition. Murray Bros is certainly fortunate that he didn't more seriously consider taking up golf as a profession. When not on the golf course, Bob loves spending time with his family, including young grandchildren.
Congratulations on 25 years Bob! Murray Bros is truly grateful to have someone with your skill, knowledge, commitment and passion, and we hope you'll be with us for many years yet!
https://murraybros.com.au/wp-content/uploads/Bob-with-avos-edited.jpg
407
326
Jodie Ahchay
https://murraybros.com.au/wp-content/uploads/murraybros-logo-header.jpg
Jodie Ahchay
2019-10-17 10:49:43
2019-11-18 15:09:43
Quarter Century and "Not Out" for Bob Jones
Address
B Block, Brisbane Markets
385 Sherwood Road
ROCKLEA Q 4106
View on map
Murray Bros offers fruit and vegetable trading, logistics, cold storage, ripening, pre-packing, import/export clearance and fumigation, quality control etc.
Scroll to top